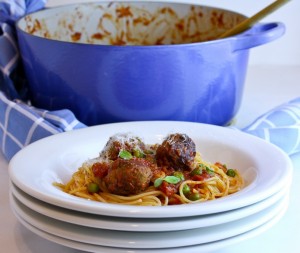 Throughout my childhood and many of my teenage years I was a competitive swimmer.  This meant that I consumed large quantities of complex carbohydrates to fuel my body for the long training hours.  One of the most frequent things that I used to eat was pasta.  I think that was because it was something the whole family could enjoy which made it easy for Mum to prepare.  Spaghetti bolognaise was a regular meal and Mum used to make a delicious version.
These days G & I tend not to eat a lot of pasta, not for any particular reason, it's just something that I don't tend to cook very often.  Recently I decided to expand my repertaire a little and explore other cuisines beside my comfort zone of Indian and Thai.  I had also promised myself that I would create something from a different cookbook at least once a week from now on because I have a huge collection that I hardly utilise, so the most logical place for inspiration was my bookshelf. 
It was the wonderful chef, Karen Martini, who inspired our delicious meal.  Karen is a Chef, restaurateur, writer and now TV presenter, whose food is unmistakably that of the Mediterranean, but is also undeniably individual.  I particularly love her passion, authenticity and relaxed attitude when presenting new recipes.  She describes this recipe as "Comfort food at its best", and she is very, very correct.
spaghettini and meatballs (from "Cooking at home" by Karen Martini) 
serves 8-10
Ingredients
800g (1lb 12ozs), spaghettini
1/2 cup frozen peas
grated parmesan, to serve
Meatballs
2 tablespoons olive oil, plus extra for frying
2 brown onions, chopped
6 cloves garlic, finely sliced
1 handful chopped oregano
sea salt and freshly ground black pepper
450g (1lb) pork and veal sausages, skins removed
350g (12.3ozs) beef mince 
200g (7ozs) grated parmesan
2 free-range eggs
1 handful chopped oregano
1/2 fresh nutmeg, grated
handful of flat-leaf parsley, chopped
Tomato Sauce
100ml (1/3 cup) olive oil *
2 cloves garlic, finely sliced 
1 bay leaf
1 handful chopped oregano
2 x 400g cans (1lb 12ozs) chopped tomatoes
2 3/4 cups tomato passata
2 tablespoons caster (superfine) sugar
500ml (2 cups) chicken stock
 
Preparation
To make the tomato sauce, heat the olive oil in a very large saucepan over medium heat.  Cook the garlic until golden, then add the bay leaf and oregano and cook for 1 minute.  Add the tomatoes and passata and simmer for 10 minutes, then stir in the sugar and chicken stock and season to taste.  Simmer over low heat for 20 minutes.
To make the meatballs, heat the olive oil in a large frying pan over medium heat.  Add the onion, garlic and oregano and season with salt and pepper.  Cook for 3 – 5 minutes or until onion is soft.
Place the remaining ingredients (except the extra olive oil) in a food processor, add the onion mixture and pulse until well combined.  Form the mixture into small balls, about the size of a walnut.
Heat the extra oil in a large frying pan over medium heat.  Brown the meatballs in batches, then add to the tomato sauce and simmer over low heat for 15 – 20 minutes.
Meanwhile, cook the spaghettini in a very large saucepan of lightly salted water until al dente.  Drain.  Stir the pasta and peas through the sauce and serve hot with grated parmesan. 
My tips/alterations:  *We are eating healthy at the moment so I used half the amount of oil that was suggested for the sauce.  *I added the frozen peas into the sauce about 5 minutes before it was finished cooking.  They were perfect.  *You can use normal spaghetti, just cook it for the time applicable.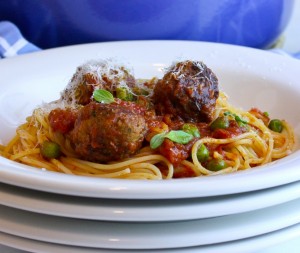 ease: 7/10. These may not be the simplest meatballs ever made but the effort is worth it.  
prep time: 15mins
cooking time: 60mins.  There are multiple elements cooking at the same time.
total: 1 hour 15 minutes.
taste: 9/10.  G loved this meal partially because, in his words, "we never have food like this".  He also enjoyed the flavour of the meatballs and the sauce, however, he would have liked the meatballs to be a little crisper.  I loved everything about it.  The sauce had reduced so that it just coated the pasta with its richness and allowed the succulent meatballs to shine through.  The meatballs themselves were tender little flavour bombs that released their layers of delicious ingredients as you ate them.  I would go as far to say that this was the best spaghettini and meatballs that I have ever had.
would I make it again: Absolutely – I'd make the meatball mixture ahead of time then cook them when needed.