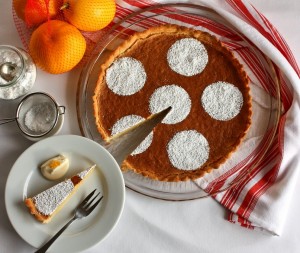 I had a dear friend coming around for coffee and a chat today and I didn't have a thing in the cupboard to nibble on while we nattered.  It was 7am and I decided to try a new recipe that another friend had given me recently (as you do at 7am!).  Actually, it was the same friend who gave me the lemon yoghurt cake recipe that I have posted previously.
I had pre-read the recipe, something I encourage my students to do, to ensure I had all the ingredients and enough time.  I knew that I only had a very small window of opportunity to bake the tart as I had an appointment prior to J's arrival at 10.30am, so I threw myself into the task and began by preparing the pastry.  My favourite kind of pastry is the type that can be thrown into the food processor because the machine does all the work and it just needs finishing by hand.  I popped it into the refrigerator to rest and cleaned up a little.  By the time I finished my cleaning it was time to roll out the pastry.  Just as I had floured the board and pastry the telephone rang.  So with my hands covered in flour I strategically answered the call.  Fifteen minutes later I was back in the kitchen.
The slight delay meant that I had to cook my tart for a shorter period of time.  Knowing that it would not be set in the time I had, I decided to cook it for as long as I could then turn the oven off and leave the tart in there with the door slightly ajar.  Hopefully this meant that it would not be overcooked but would be cooked through.  So I left the house for my appointment not really knowing how things were going to turn out.
Fortunately I returned home to a perfectly cooked tart.
lemon and almond tart (adapted by Fiona from Food 4 Thought) 
makes 1 x 23cm tart – serves 8-10
Ingredients
Pastry
1 1/2 cups plain flour
150g (5ozs) unsalted butter
pinch of salt
1/4 cup icing sugar
1 egg yolk
Filling
3 eggs
200g (7ozs) icing sugar
3 teaspoons lemon zest
120ml (1/2 cup) lemon juice
125g (4ozs) unsalted butter, melted
100g (3 1/2ozs) ground almonds
 
Preparation
Preheat the oven to 180°C (350°F). 
For pastry, place the flour, butter, salt, icing sugar and egg yolk in a food processor and pulse until the ingredients start to for a ball.  Tip the mixture onto a floured workbench and bring into a ball, flatten and place in the fridge for half an hour.
Once chilled, roll the pastry out until it is 3mm thick and line a 23cm removable-bottom tart tin.  Prick the pastry with a fork, line with baking paper and fill with weights or rice.   Bake for 15 minutes.
While the pastry is baking, make the filling by placing the eggs and sugar into a large bowl.  Beat the mixture until thick and pale in colour.  Add the lemon zest, juice, butter and ground almonds and fold through the egg mixture.  Pour into the par-baked shell and bake for 30-35 minutes until golden brown. 
My tips/alterations:  *The original recipe included 2 tablespoons of limoncello as an option in the filling.  I didn't have any so left it out.  *I found the pastry a little crumbly when it was fresh out of the fridge but managed to push it together then roll it out easily.  I also found there was quite a bit of pastry and filling left over so I made an additional mini tart.  *I used meyer lemons because I find them a little weeter than other varieties.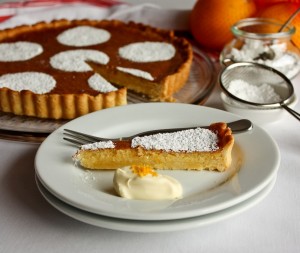 ease: 7/10. The pastry was a little tricky.  The filling is simple. 
prep time: 15mins for pastry, plus 30mins for chilling, 10mins for filling.
cooking time: 15mins + 30mins.
total: 1hour 10mins + 30mins chilling.
taste: 8/10.  My friend J and I enjoyed this with some double cream.  We both appreciated the texture of the filling and also the tang from the lemon.  The pastry was sweet and balanced well with the filling.  G took the remainder of the tart to work where his colleagues enjoyed it immensely.  He returned an empty container and passed on many comments of praise.
would I make it again: Yes – This is a lovely tart to serve to guests.