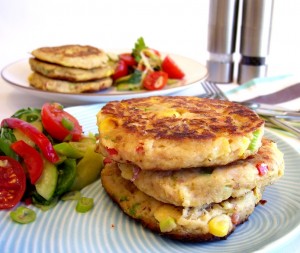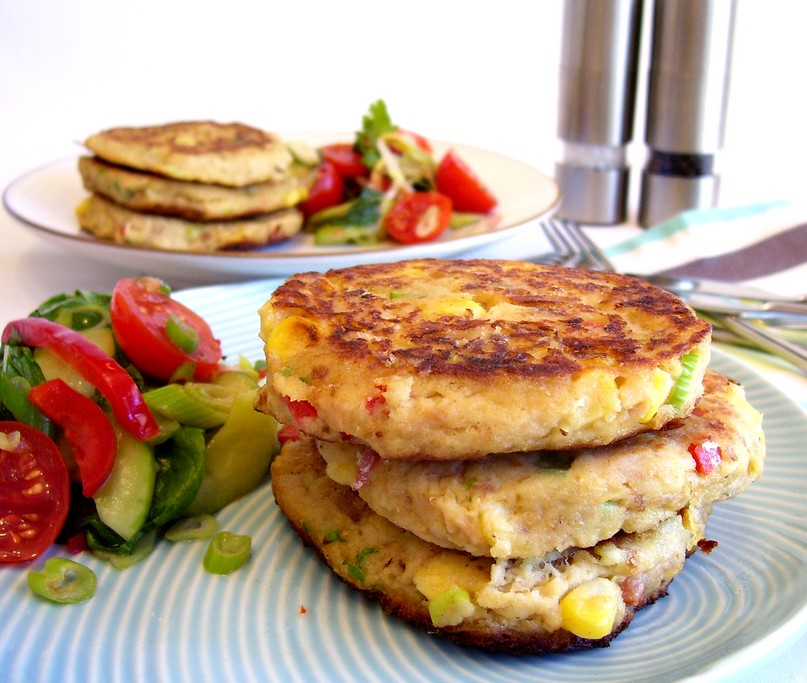 Having left over mashed potato could be considered a blessing in our house because there is always something to do with it.  One of my favourites and the easiest thing I know to do is make tuna patties.  They succeed on may levels.  They are quick and easy to prepare, a good source of protein and a great way to get kids to eat tuna and vegetables.  I made this recipe up as I went along and just used what I had in the cupboard and the fridge.  I like to serve these as a light lunch accompanied by a crunchy salad but you could easily wrap them in a pita bread with lettuce, cheese and maybe a little sweet chilli sauce.
tuna patties (recipe by Fiona from Food 4 Thought)
makes 6 patties
Ingredients
1 cup cold mashed potato 
1 x 95g tin tuna, drained (I used naturally smoked)
50g corn kernels
50g red capsicum
2 x spring onions
1 egg, beaten
3 Tbsp breadcrumbs
Salt and pepper
vegetable oil, for shallow frying 
 
Preparation
Preheat a large non-stick frypan over medium heat.
Place the potato and tuna into a large bowl.  Dice the red capsicum so that it is roughly the same size as the corn and finely slice the spring onions.  Add these and the remaining ingredients (except the oil) to the bowl and stir well to combine.
Add 1 Tbsp of oil to the pan.  Moisten your hands with cold water.  Take approxroximately 3 Tbsp of the mixture and shape into a disc.  Cook for 3 – 4 minutes per side until golden brown.
Serve with side salad and accompaniments of your choice.
My tips:  *If you find the mixture too soft to shape, place it in the refrigerator for half an hour.  It will hold together much better.  Additionally, make sure you have damp hands as it makes these easier to shape.  *Cooking these a little longer, until they are well browned, will give them a better flavour and a little more crunch on the outside.  *Use other vegetables if you like such as carrot and celery.  *My mash was very creamy to begin with so if your mash is on the drier side you may need to add less breadcrumbs.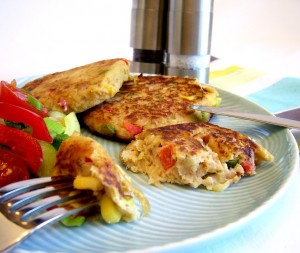 ease: 10/10.  This is kid friendly if adults do the things that involve knives and heat.
prep time: 15mins.
cooking time: 10mins.
total: 25mins.
taste: 9/10.  Both G and I liked these for our simple Sunday lunch.  We felt they had good flavour and texture.  G felt that they would also be good with a little spice added to them to create a little depth.  I would just serve them with sweet chilli sauce 🙂          
would I make it again: Yes – For a quick, easy, healthy way to use up left over mashed potatoes I think this is unbeatable.