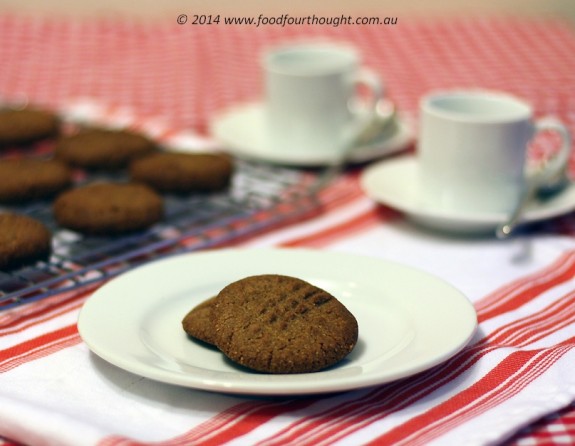 These days I hear more and more about people with food allergies or sensitivities and I've discovered that I'm one of those people.
Learning more about how my body reacts to certain foods has prompted me to ask questions like what am I doing that is contributing to this and how can I change it? Should I stop listening to "experts" and start listening to my body more?  Is the food I eat nourishing me or making me ill?
All extremely valid and necessary questions I think.  Many of my customers purchased a Thermomix so that they could go back to the basic style of cooking like their ancestors, void of preservatives, additives and colours.  Others use it to combat allergens and avoid illness due to potential reactions.  Originally, I decided I wanted a Thermomix in my kitchen because I loved cooking but was extremely time poor.  However, three years on, I now use it in a completely different way than I first thought I would.
In recent years my eating habits have completely changed.  This is primarily due to health reasons which I'll share in future posts.  My main challenge has been deciphering exactly what my body can and can't handle in relation to food.  The great thing is that I can make everything from scratch so I know exactly what is in everything I eat.  This takes the "guesswork" out of my analysis and helps me pinpoint things quickly.  Many of my clients want to KNOW what they are eating and the Thermomix is definitely a great tool for that.  I sometimes say, "I used to think we ate healthy, now I know we do".
Before I had to change my diet I LOVED to bake, and I still do.  Now I just use slightly different ingredients.  I still like the recipes to be simple and the results to be delicious!  In the cooler weather I love nothing more than a cup of tea and a biscuit (thanks to my Nan) and it used to be a cup of Earl Grey with a dash of milk and am all butter shortbread.  More recently it has become a cup of Green Tea and one of these delicious cookies.  I hope you love this recipe.
(paleo) ginger cookies – makes approximately 20 cookies (recipe by Fiona at Food 4 Thought inspired by Detoxinista).
Ingredients
220g whole almonds (skin on)
½ teaspoon ground cinnamon
¼ teaspoon salt
¼ teaspoon bicarb (baking) soda
3 teaspoons ground ginger
50g pure maple syrup
20g water
15g blackstrap molasses
70 g (grass-fed) butter or ghee, soft
Preparation
Preheat the oven to 160°C (150°C fan-forced).  Line a large baking tray with non-stick paper or a silicone mat.
Place almonds into TM bowl and grind for 15 seconds on speed 8.  Add all remaining ingredients to TM bowl and mix for 10 seconds at speed 3 or until combined.
Pour mixture into medium size bowl and place in freezer for 10 minutes or until slightly chilled.  Remove mixture from freezer and roll into balls (or use a scoop – see tips below).  Place them onto prepared tray, about 5 – 7 cm apart to allow room to spread.  Bake for 15 – 20 minutes or until golden brown.
Once baked, allow to cool for a couple of minutes on the tray before carefully moving to a cooling rack.
Enjoy with or without a cup of tea.
My tips: *To divide the mixture evenly I used a mini ice cream scoop but spoons will work just as well. *You can substitute the butter/ghee with coconut oil if you like however the ratio might be slightly different.  *This is a very versatile recipe.  If you want it to be a cinnamon cookie, just leave out the ginger and increase the cinnamon to 2 teaspoons.  If you'd like a spiced cookie substitute the ginger with 1 teaspoon of mixed spice.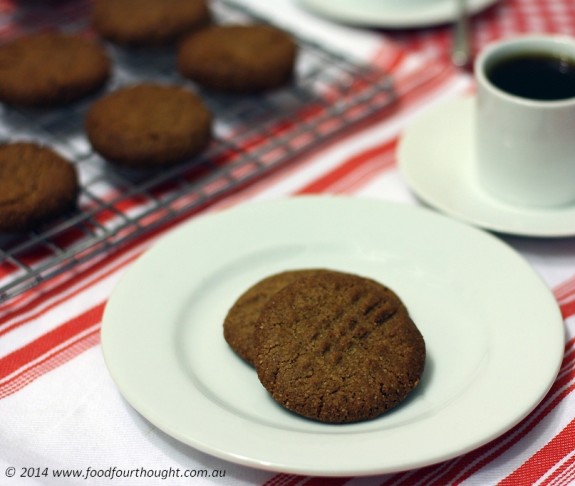 ease: 9/10.  Does it get any simpler?!
prep time: 10 minutes + chilling time 
cooking time: 20 minutes 
total: 30 minutes + chilling time
taste: 9/10 I LOVE these.  I've made them twice since I created the recipe and ate 3 (or was it 4) in one day from the most recent batch.
would I make it again:  What do you think? 🙂