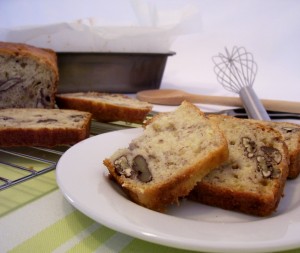 In our house, fresh fruit is something that we tend to eat more in the summer, although we still go through fads.  One week we'll eat quite a bit and others it just seems to sit around.  The most common thing we seem to be left with at the end of the week is over ripe bananas.   I recently found one great way to use them and now I think I have another. 
In my mind, family recipes are often things to be treasured.  They are sometimes the simplest creations that have a comforting familiar flavour, evoking memories of times gone by.   This recipe was given to me by a dear friend, Gladys, many years ago.  It reminds me of the kind of recipe that my Nanna used to make.  It is the type of thing that she would whip up when the shearers were coming and needed to have morning tea to keep things flowing in the right direction for the rest of the day.      
banana bread (recipe by Gladys – adapted by Fiona at Food 4 Thought)
makes one loaf
Ingredients
¼ cup melted butter, cooled
1 egg
1 ¾ cups self raising flour 
¾ cup sugar
1 tsp baking powder
pinch of salt
3 medium size bananas, mashed
½ cup milk
1 handful of walnuts or pecan nuts (not in the original recipe, this is my addition)
 
Preparation
Preheat oven to 160°C.  Line and grease a 21 x 11cm loaf pan (measured at the base).
Use a whisk to beat the cooled butter and egg together until well combined and smooth.  Add the flour, sugar, baking powder and salt.  Stir to distribute butter mixture throughout the dry ingredients.  It will not combine completely.  Add the banana, milk and nuts.  Stir to combine.  Do not over mix the batter as it may become tough. 
Pour the mixture into a prepared tin and bake for 50 – 60 minutes, until a skewer inserted into the centre of the cake comes out clean. 
Remove from the tin and allow to cool on a wire rack before slicing and serving with any accompaniments that you desire.
My tips:  *Make sure the butter is cool before adding the egg, otherwise you will have scrambled eggs.  *I know that baking is a science and that all things should be measured perfectly.  However, this mixture is a little forgiving and therefore "a handful of nuts" is an acceptable amount.  *I like to mash one banana then break the rest into small chunks.  It gives the mixture a more interesting texture and seems to keep the cake a little moister.
ease: 10/10.  This is one of the quickest preparations in baking.  Ask the kids to mash the banana, add the milk and even measure out the ingredients if you like.
prep time: 10mins.
cooking time: 50mins.
total: 60mins.
taste: 9/10.   The flavours and texture evoke wonderful childhood memories of afternoon tea with my Nanna and Grandpa.  Any dish that can do that deserves high praise in my book.  Besides, it is really yummy.            
would I make it again: Always – In fact, I would buy over ripe bananas so that I could.