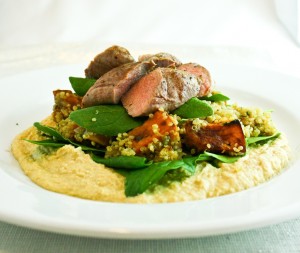 Continuing to support our commitment to eating healthy throughout the winter months I have been searching for recipes that will serve our purpose.  The problem I often find with low-fat, dairy free, wheat free meals is that while they might be a healthier alternative they can often lack in flavour.  However, this is not the case with the recipe that I have chosen to write about today.  It uses some classic flavour combinations such as lamb with hummus and spinach with roast pumpkin (known as butternut squash in the USA and UK).  It also includes a few things that you might not think of putting with those components.
One of the ingredients that some of us have either never heard of or have just started to use is Quinoa (pronounced 'keen-wa' or 'kin-wah') which is native to the upper Andes of Bolivia, Peru, and Ecuador.  Some people think it is a grain but it is in fact the seed of a grain-like crop that grows on free-draining soil in high altitudes of up to 4000 metres.
The most surprising feature of quinoa is its high protein content of 12-18% which is higher than meat.  The proteins quinoa produces are a well-balanced mix that is superior to any other grain.  It's also a good source of calcium, phosphorus, magnesium and iron.  It has a low glycaemic index (GI), is gluten free and high in dietary fibre.  
With all these wonderful features I have been searching for some recipes that would integrate it into our diet a little more often and this is one that I discovered.
rack of lamb with quinoa and roasted pumpkin (from "The detox cookbook" by Jan Purser & Kathy Snowball adapted by Fiona from Food 4 Thought) 
serves 4
Ingredients
1/2 butternut pumpkin (approx 800g), peeled and cut into 2cm pieces
olive oil
2 x 6-cutlet racks of lamb, French trimmed *
1 onion, diced
1 baby fennel bulb (approx 300g), trimmed and diced *
2 garlic cloves, finely chopped
500ml (2 cups) chicken stock
190g (1 cup) quinoa
1/4 cup chopped herbs including basil, mint, flat leaf parsley
1 cup hummus
100g baby spinach leaves, to serve
 
Preparation
Place pumpkin on an oven tray, brush with a little olive oil and roast at 200°C (390°F) about 20 – 30 minutes, turning once, or until pumpkin is golden and tender.
Brush lamb with a little oil and cook in a hot non-stick frying pan until browned.  Transfer to an oven tray and roast at 200°C (390°F) for 15 minutes for pink lamb.  Remove from oven, cover loosely with foil and rest in a warm place for 10 minutes before slicing into cutlets.
Meanwhile, heat 1 tablespoon olive oil in a saucepan, add onion, fennel and garlic, cook over low heat for 5 minutes.  Add 60ml (1/4 cup) of stock, cover and cook over low heat for about 20 minutes or until the fennel is soft.  Add quinoa and remaining stock, bring to a simmer, cover and cook for 15 minutes or until quinoa is tender.  Remove from heat, season to taste and gently stir in pumpkin and chopped herbs.  Set aside.
Serve 1/4 cup hummus per person topped with quinoa and pumpkin mixture, baby spinach leaves and sliced lamb cutlets.   
My tips/alterations:  *I used lamb loin rather than cutlets and cooked them in the same way as the cutlets would have been cooked.  It was a little shorter time in the oven.  *If you would prefer to use cutlets, your butcher can French trim them for you.  *I used normal fennel as I couldn't buy baby fennel.  I simply removed the hard outer leaves and diced what I needed from the centre.  *I made my own hummus but you could purchase your favourite brand.    
ease: 7/10. This is not difficult, there a just a few elements to co-ordinate timing for.  
prep time: 20mins
cooking time: 40mins.  There are multiple elements cooking at the same time.
total: 1 hour.
taste: 8/10.  I loved the combination of flavours and textures in this dish and the taste sensation of hummus with the quinoa mixture surprised and delighted me.  I could eat this without the lamb and feel like I was in vegetarian heaven (if I used vegetable stock :)).  G rated this 7.5/10 because he is not sure about the quinoa and would have preferred if the spinach was blanched or replaced with something such as rocket.  I think rocket would go great in this dish.
Why not play with it and make it your own!
would I make it again: Yes – Healthy and delicious, you can't beat that.