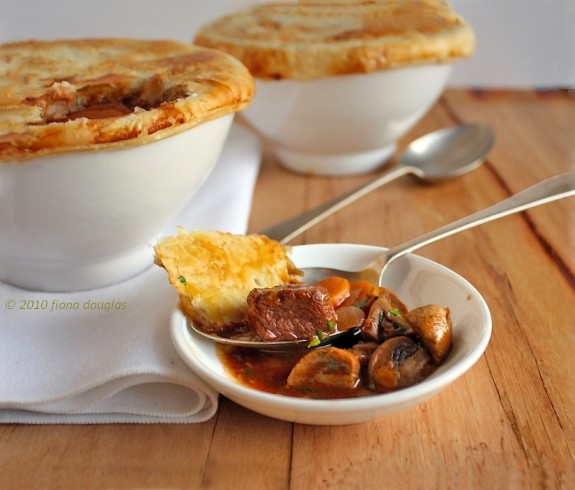 I have mentioned in my recent posts that G and I have been making a very conscious effort to eat healthy and exercise a little more.  This includes making sure we consume lots of fruits and vegetables into our daily meals, something that we have always been very good at doing. 
Just how much good eating we have been doing of late was highlighted recently when G completed a personal health check questionnaire through his occupational health and safety team at work.  One of the questions related to the 2 fruits 5 vegetables a day theory and when we actually added everything that he (we) consume from those food groups in a day, this would be the minimum.  After completing the questions, everyone was asked to pass in their form for evaluation and those with the highest scores relating to living a healthy lifestyle were awarded prizes.  G was fortunate enough to be placed joint first and was given a bag full of goodies which included a "Healthy Eating" recipe book (yippee!).  I flicked through it and found some great ideas including these delicious little pies.   
individual beef and red wine pies (recipe adapted from Heart Foundation)
makes 4-6   
Ingredients
2 teaspoons olive or vegetable oil
1 large onion, chopped
2 cloves garlic, crushed
1kg beef chuck steak trimmed of all fat and cubed
2 tablespoons plain flour
200g Swiss brown mushrooms, quartered
2 tablespoons fresh thyme chopped
2 tablespoon fresh parsley chopped
2 sheets canola puff pastry defrosted
1 tablespoons reduced fat milk
375ml red wine
375ml reduced salt beef stock
2 carrots thinly sliced
2 tablespoons reduced salt tomato paste    
Preparation
Preheat the oven to 200°C. You will need 4-6 x 2 cup capacity ovenproof pie dishes. 
Heat the oil in a large pot, add the onion and cook over a medium heat for 5 minutes or until golden. Add the garlic and the beef and cook for 5 minutes until the beef is browned.  
Add the flour and tomato paste and cook for a further 2 minutes, stirring constantly.  Stir in the red wine and stock and bring to the boil. Add the carrots, mushrooms and chopped thyme.  Reduce the heat, cover and simmer for about 1 hour then remove the lid and cook for a further 45 minutes until the beef is tender and the sauce is reduced and thickened.  Stir through the parsley, transfer to a bowl and allow the filling to cool completely.  
Using the top of a pie dish as a guide, cut 4-6 circles from the pastry, about 2cm larger than the dish.  Spoon the cooled filling into the dishes.  Brush the edges of each pastry circle with a little water then cover the dishes (damp side down); pressing the pastry to the side of the dish to seal.  Cut a small cross in the top of each pie, insert a sprig of thyme and lightly brush with milk.  
Bake for 20-25 minutes or until the pastry is crisp and golden and the filling is hot. Serve the pies with mashed potato and steamed beans.     
My tips/alterations:  *I used reduced fat puff pastry.  By the time this was cooked I only had enough mixture for 4 pies even though the original recipe said it would make 6.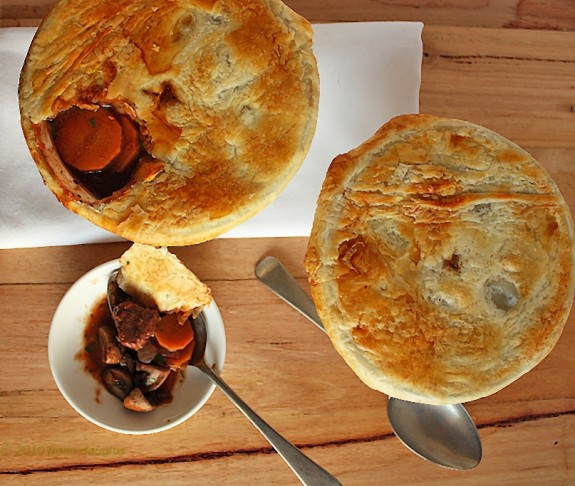 ease: 7/10.  These aren't too difficult; there are just a few elements to making them. 
prep time: 30mins.  
cooking time: 2 hours 25mins.
total: 2 hours 55mins.            
taste: 8.5/10.  These were delicious.  The flavour that was in the filling was as good as any winter stew and the pastry was the crowning glory.
G had only one complaint.  He considered these to be a hotpot rather than a pie.  He said if they had of been a proper pie they would have scored 10. 
would I make it again:  Yes and maybe try and make them into a "proper pie" 🙂