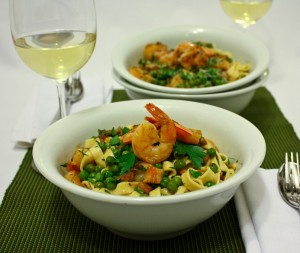 In my previous few posts about pasta I mentioned that it is something that G and I don't normally eat a lot of but it seems that in the past few weeks we have been devouring it a little more regularly.  This is possibly due to a couple of reasons.  The first being that my commitment to try and find recipes from my cookbook collection has meant that I have started at one end of my bookshelf and am slowly working through.  Because I am the type of person who is completely (over the top) organised my books are filed into cuisine categories and I have started with Italian.  The second reason is that I purchased the pasta attachment for my Kitchen Aid a few months ago and aside from one disaster I seem to have mastered the art of homemade pasta, and G is certainly appreciating my efforts.
I decided upon this recipe because of the prime ingredient, the prawns.  After flipping through a couple of my cookbooks for some inspiration I decided on the ingredients that I wanted to utilise.  I have used smoked pancetta previously and love the salty smokiness that it brings to a dish; I added the peas for sweetness and parsley for freshness.  This mix of ingredients also meant that I could give this a slightly funky name :).
I hope you enjoy my idea of a delicious dinner.
fettuccini with the four P's (recipe by Fiona at Food 4 Thought) 
makes 2 servings
Ingredients
olive oil
1/2 red onion, diced
100g smoked pancetta
16 x raw large prawns, peeled, deveined, with or without tails 
2 cloves garlic, crushed
125ml (1/2 cup) white wine
125ml (1/2 cup) double (heavy) cream
200g (7osz) frozen peas
1/2 cup flat-leaf parsley leaves, roughly chopped
sea salt and ground black pepper 
grated parmesan cheese, to serve
 
Preparation
Bring a large port of water to the boil then add a tablespoon of salt.  When boiling cook fettuccini according to directions.
Meanwhile, place a heavy base pan over medium heat and add 1 tablespoon of olive oil.  Add onion and cook for 5 minutes or until slightly softened and lightly golden.  Remove rind from pancetta and dice into 1/2cm (0.2inches) pieces, add to pan and fry for 8 – 10 minutes, stirring regularly, until pancetta is crisp.  Remove both onion and pancetta from pan and set aside. 
Add another tablespoon of olive oil to pan and fry the prawns for 2 minutes each side or until they turn slightly pink.  Remove from pan and add to onions and pancetta.  Add garlic to pan and cook for a minute or two until golden then add wine and deglaze pan, simmer for 1 minute before adding cream and stir to combine.  Add peas and cook for 3 – 4 minutes then add onion, pancetta and prawns back to pan.  Sprinkle with two-thirds of parsley and stir to combine.  Simmer for 2 – 3 minutes to allow flavours to combine.  Taste and season as desired.
Remove pasta from water and reserve cooking liquid.  Add pasta to pan and tumble to allow sauce to coat the pasta.  If the sauce is too thick add a little of the pasta water, this will help loosen it.
Divide between two bowls, top with a sprinkle of remaining parsley and grated parmesan.
My tips/alterations:  *If you like a lot of sauce with your pasta then you may wish to add a little extra cream to this recipe, I think 1/4 cup extra would be enough.  *You could use any other pasta that you prefer and also substitute basil for parsley if you like.  *For ease, you can purchase prepared prawns rather than shelling and cleaning them yourself.  *Substitute the smoked pancetta with normal pancetta or even bacon if you prefer.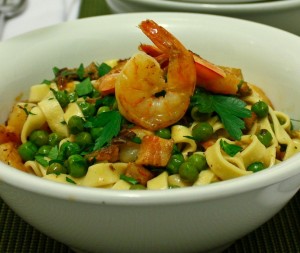 ease: 8/10. 
prep time: 10mins.
cooking time: 30mins. 
total: 40mins.
taste: 8/10.  I loved this meal.  The flavours and textures of the ingredients went really well together and I loved the cream sauce.  G rated this 7/10, he loved the flavour but wanted a little more sauce.  So I guess I'll just have to make it again to try and improve on it. 
would I make it again: Yes