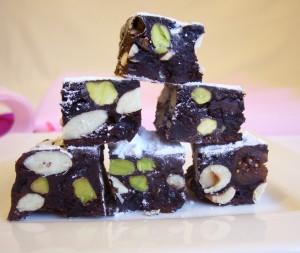 Yesterday was a day of spring cleaning, even though it is autumn at the moment.  A couple of times a year I like to clean all of those places that never get cleaned.  I also like to go through the fridge and either throw out or use up all the jars of things that say "refrigerate after opening".  They seem to accumulate and multiply on their own while I am not watching.  One of the things that I found was a jar of fruit mince that I had partially used around Christmas time.  
I had seen this recipe some time ago and thought it was a great idea to use up this particular ingredient.  I have made panforte for special occasions although the recipe that I used is much more complex and time consuming.  So although I have never been a big one for cheating in any shape or form, this is one instance that I was willing to give it a go.
quick chocolate panforte (recipe from Taste [Delicious Magazine] online)
makes 40 squares
My tips:  *Use the best quality cocoa that you can afford, it will give this a richer flavour.  *I didn't have some of the ingredients listed so I substituted the macadamia nuts with almonds and the dried figs with port soaked figs.  The other thing that I didn't have was an orange.  My substitute for the zest was a couple of teaspoons of orange blossom water which a wonderfully subtle orange aroma and flavour.  All of these ingredients incorporated very well into the dish.  *For a really smooth finish on the top moisten a spatula and press it down firmly before smoothing over the top.
ease: 9/10.  This is a basic mix wet ingredients into dry with a little bit of heating involved.  
prep time: 10 mins.
cooking time: 18mins.
total: 28mins.
taste: 6/10.  There was nothing wrong with this slice perse, it just wasn't one of those things that wowed us.  I wasn't a big fan because I really don't like fruit mince but if you like minced pies at Christmas time then I think you would enjoy this, maybe.
I say maybe because G is a huge mince pie and chocolate fan but this slice has been in the house for three days and hardly any has disappeared.  Although to clarify, it is competing with the Lindt milk chocolate bunny that I bought for him in the after Easter sale and that is a very tall task. 
would I make it again: Possibly – If I needed to use up leftover fruit mince.
UPDATE:  Since I posted this dish it has been tasted by a friend who loved it and wanted the recipe immediately.  So I guess G and I have just been spoilt with the other panforte that I make and that I would make this again, especially for friends. 🙂
Quick chocolate panforte recipe – From Delicious Magazine -December 2009/January 2010