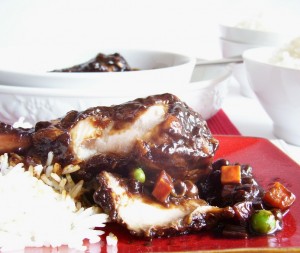 The weather has been a little cooler this week, staying in the high 20's rather than being close to 40°C.  This made me want to cook something warm & hearty rather than something that would go with salad which we tend to eat when the weather is warm.  I found an entry written in my original recipe book that I created when I first moved out of home.  I remembered it being a delicious, slightly spicy dish that was very easy to make.  Given that I had purchased some lovely free range chicken thighs earlier in the day this seemed like the perfect thing for dinner. 
bbq chicken casserole (recipe by Fiona from Food 4 Thought)
serves 4
Ingredients
Olive oil, for frying 
1 kilo chicken pieces (I used skinless, free range) 
1 onion, finely diced
1 1/2 cups tomato sauce
2 Tbsp bbq sauce
1/2 cup soy sauce
1 tsp mustard powder
1/4 tsp cayenne pepper, or to taste
2 cloves garlic, crushed
2 Tbsp brown sugar 
 
Preparation
Preheat oven to 180°C and place casserole dish over a medium heat.
Pour 2 Tbsp of oil into dish, add chicken pieces and cook until golden brown on all sides.  Do not cook completely.  Remove from pan and set aside.  Add onion and cook until translucent and slightly golden, about 4 – 5 minutes. 
Add chicken back to the pan along with all other ingredients.  Mix well to combine.  Seal dish with a lid and place in the oven for  40 – 50 minutes, or until the chicken is beginning to fall off the bone.
Remove from the oven and allow to rest for 15 minutes or so.  Serve with steamed rice or mashed potato.  
My tips:  *I try to use a low sodium tomato sauce, however, if you prefer you could use the same quantity of tomato passata with a couple of tablespoons of tomato paste added to it.   *Use light soy sauce if you prefer a milder flavour.  *Using skinless chicken pieces reduces the fat content of this dish.
ease: 10/10.  This is one of those things that you can throw in the oven when you get home and if you cut down on the cayenne even the kids might eat it.
prep time: 25mins.
cooking time: 50mins.
total: 1hour 15mins.
taste: 8/10.  The evening I cooked this we had a friend for dinner unexpectedly.  We all loved this meal for a mid week kind of thing.  It was a different kind of comfort food.  The only reason we didn't score this higher was because it didn't have a complexity to it that other dishes can have.  As far as mid week comfort food is concerned I would rate it a 10!              
would I make it again: Yes – For a quick, easy, mid week meal and for unexpected guests 🙂