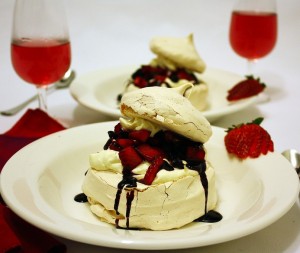 I have always loved having friends over for dinner parties more than going out to a restaurant.  Don't get me wrong, I don't mind paying someone to create delicious food and to do the washing up for me.  I just like to try and create things that I think my friends enjoy eating.  I used to be a really bad dinner party hostess, trying to do too many dishes, spending way too much time in the kitchen and never enough time with my guests.  Over the years I have learnt that it isn't just about the food but the whole experience.  These days I try to balance things a little better, still creating good food but many of the things I do are made ahead of time and just assembled close to serving. 
One of the desserts that fits in this category is meringue.  I love the fact that with only two main ingredients (egg whites and sugar) a delicious, delicate shell can be created and set aside until it is time for the adornment.  Meringue can also travel well as mentioned in my meringue stack post, so it is a great thing to make if you are asked to take a dessert to a party.  I also like that making this kind of dish means using an ingredient (egg whites) that may otherwise be thrown away.  Waste not want not is definitely one of my philosophies.
G's good friend, M returned from a trip overseas a few days ago so we were eager to have him over for dinner to hear how much fun he had.  I decided to cook a roast lamb with duck fat potatoes and other vegetables along with my prepare-ahead dessert.  The recipe I chose to use came from Stephanie Alexander's "The Cook's Companion" and while her recipe for orange cake I made recently didn't suit my purpose, the recipe for "Sue's Meringues" was perfect.  The clincher that made me use this recipe was part of the comment prior to the recipe "……..you can turn leftover egg whites into a wonderful treat that stores well and turns simple berries into a special dessert."
meringue nests with berry and cream topping – (recipe from The Cook's Companion adapted by Fiona at Food 4 Thought)
makes three large nests with little tops
Ingredients
meringue nests 
2 eggs whites (70g/2.5ozs)
1/2 cup (100g/3.5ozs) caster sugar
1/2 teaspoon vanilla extract
topping
250g/8ozs frozen blueberries, thawed
1 tablespoon lemon juice
1 1/2 tablespoons (30g/1oz) castor sugar
250g strawberries
200ml whipping cream
to serve, sliced strawberries
 
Preparation
Preheat oven to 150°C  (300°F/Gas 2) and line a baking tray with non-stick baking paper. 
For meringues, place egg whites into large bowl of an electric mixer, beat until stiff peaks form and then add sugar, a little at a time, still beating.  Beat in vanilla and continue beating until all sugar has dissolved.  Test by dipping your finger into the mixture and rubbing fingers together, if it feels smooth the sugar is dissolved.  Place large spoonfuls of mixture onto baking tray approximately 10 cm/4 inches in diameter.  Hollow out the centre and smooth edges to create a nest like shape.  Repeat to make three nests.  With remaining mixture, place spoonfuls onto tray and using the back of a spoon swirl on top to create a tip.  These will become the lids.  Bake for 45 minutes.  When cooked, leave the oven door slightly ajar and allow meringues to cool completely in oven. 
When ready to assemble make topping by placing blueberries, lemon juice and sugar into a small saucepan and heating until simmered for 3 – 5 minutes or until the berries begin to soften.  Pour into a sieve over a bowl and allow to drain well.  Return the reserved liquid to the saucepan and simmer for a further 5 minutes or until it is reduced to a thick syrup.  In the meantime, place blueberries into a bowl, hull strawberries and cut into similar size pieces to match blueberries.  Add to bowl and mix to combine, set aside.
Whip cream until soft peaks form.
To serve, place meringue nest into serving bowls, add 1 tablespoon of berries to each nest, cover with cream then divide remaining berries between nests.  Top with a little more cream then place meringue lid on top.  Drizzle with blueberry and lemon syrup and decorate with a sliced strawberry. 
My tips/alterations:  *To increase or decrease the quantities for the meringue recipe the general rule of thumb is to allow 60g/2.1ozs of sugar per egg white.  I like to allow about 50g/1.75ozs which means that the centre has a more chewy texture rather than being like marshmallow.  *You may need to experiment with your oven and how it cooks meringues as that will affect the outcome and ever oven is different.  *If syrupy droplets form on the surface of the meringues after cooking, you will know that you have overcooked them; liquid oozing from the meringues means that they are undercooked.  *You can store the meringues in an airtight container lined with greaseproof paper.      
ease: 7/10.  Meringue can be tricky at first but once you get it right it is simple from then on.
prep time: 20mins for meringues + 10mins for topping, sauce and assembly. 
cooking time: 50mins.
total: 1 hour 20mins.          
taste: 9/10.  Talk about impressive!  There was immediate silence when these were consumed aside from the undertones of pleasurable moans and groans coming from all corners of the table.  To say that we all loved these seems like such an understatement. 
The meringue was crunchy on the outside but sticky on the inside, just the way we like it.  The soft cream provided the little bit of richness to carry the berries which provided a textural and flavour contrast to the meringue.  The syrup was a perfect balance of sweetness with that little but very important zing of the lemon.
This would have to be on my top 10 dessert list. 
would I make it again:  Without hesitation.  Make ahead, delicious and impressive, that's my kind of dish.