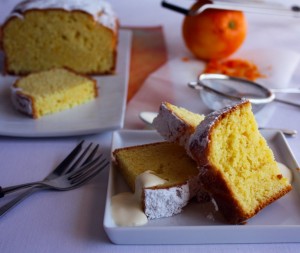 Whenever we have visitors I always like to have something in the cupboard to offer them to have with a cup of tea or coffee.  So when G told me that he was going to catch up with a couple of mates and then invite them over for a cuppa my first reaction was one of complete panic.  Why?  Because the cupboard was completely bare and if there are ever any packet biscuits in the house they are for making into cheesecake cases only.
I had wanted to make an orange cake over the past few days because I had a couple of oranges that were looking a little sad and lonely in the fruit bowl.  I just hadn't got around to it because as we all know, life can get busy sometimes.
I have a little bit of a reputation with G's friends for being a "good cook" so I wanted to make something delicious.  With limited time before three hungry men descending on our house I went scouring for a cake recipe that would fit the bill.
I searched my trusty Women's Weekly "Cakes and Slices Cookbook" and came up with nothing.  I wanted something plain and simple and while all of the recipes sounded delicious I either didn't have the time or the necessary ingredients to create them.  Next on my list was Stephanie Alexander's "The Cook's Companion" because (due to its enormity) it appears to have everything.  Disappointingly, the recipe I found wasn't one that would suit this occasion.  The clock was ticking and while my eyes were flicking from one shelf to the other trying to find something that would inspire me, my brain was doing cartwheels because I knew there had to be a recipe somewhere in amongst my vast cookbook collection that would be exactly what I needed.  Then it hit me, of course, who was one of Australia's original, old-school cooks whose cookbook would no doubt have a simple orange cake recipe?  It was Margaret Fulton to the rescue.
I remember watching tv programs as a child and listening to Margaret being interviewed, I loved her style of cooking even back then.  When I read her orange cake recipe I loved its simplicity but also the fact that it was a little different to a melt and mix method so I was excited to see how it would turn out.  Although making a new recipe is possibly not an ideal thing to do when you about to have guests I was ready and headed for my kitchen with my enthusiasm in toe.
orange cake – (recipe from Margaret Fulton's Encyclopaedia of Food & Cookery)
makes one 20cm round or square tin or one 21 x 11cm loaf tin.
Ingredients
125g (4ozs) unsalted butter or soft margarine
grated rind and juice of 1 medium orange
3/4 cup (170g/6ozs) caster sugar
2 eggs, separated
2 cups self-raising flour
pinch salt
2 – 3 tablespoons milk (I used 3 tablespoons)
icing sugar, to sift over top
 
Preparation
Preheat oven to 180°C  (350°F/Gas 4).  Prepare either a 20cm (8 inch) round or square tin or 21 x 11 cm (8 1/2 x 4 1/2 inch) loaf tin by greasing with melted butter, lining the bottom with buttered greaseproof paper and dusting the sides with flour.
Cream together butter, orange rind and sugar until light and fluffy.  Add egg yolks one at a time and beat well after each.  Sift flour with salt and fold into creamed mixture alternately with strained orange juice and milk, beginning and ending with flour. 
Beat egg whites until stiff peaks form and gently fold in.  Spoon mixture into prepared tin of your choice, and bake for 35 – 40 minutes or until a skewer is inserted in the centre and comes out clean.
Turn out onto a wire rack and when cool dust with icing sugar.
My tips/alterations:  *I use unsalted butter in all f my cooking as I prefer to be able to control the amount of salt that goes into my dishes.  *I found this mixture quite dense and heavy until I added the egg whites.  It was lightened considerably after their addition.  I cooked this in a 170°C fan-forced oven and it took about 37 minutes  *If you would like this to have a more intense orange flavour you could add a teaspoon of orange blossom water to the batter.   
ease: 9/10.  
prep time: 30mins. 
cooking time: 40mins.
total: 1 hour 10mins.          
taste: 9/10.  When I removed this cake from the oven I was astounded with the weight of the cake.  It was one of the lightest cakes I have ever made.  The smell of it baking was almost driving three grown men to distraction and when we all tasted it the flavour didn't disappoint us.  I didn't wait for this to cool (naughty I know) which meant I had to cut it into thick pieces (how sad 🙂 ) and serve it warm, sprinkled with icing sugar and accompanied by a dollop of cream.  G and his friends really enjoyed it.  They all commented on the texture contrast of the crunchy outside and feather light inside.  The orange flavour came through well without being overpowering.
It was also delicious cold and I didn't have to worry about how long it would keep because I couldn't find it in the cupboard a few days after baking it.  Between G & I we devoured it all rather promptly.
would I make it again:  Yes, yes, yes.  For me, this was my perfect orange cake.  Thanks Margaret!